Wednesday morning I woke up with the worst stuffy nose, sinus pressure, watery eyes, and headache! I could not smell or taste any food which made life even more miserable because I gotta have my taste buds ramped up due to my love of food! I frantically searched the medicine cabinet for some sort of quick cold medicine to relieve my symptoms as I had to be in to open the gym, along with dragging my two boys with me (both age 2 and under). I took daytime nyquil which did not take the edge off at all. By mid afternoon I had called my mother to come and get my kiddos because the headache seemed to get worse while working and taking care of the boys. Thank goodness she took care of them! After she left with the boys I remembered that I had some doTERRA On Guard in my gym bag. I rushed over to my bag, opened the bottle, empty... Good thing we carry it at Trapper Fitness Center! I ran over to the display cabinet and grabbed a new bottle and took 2 tablets before tossing the bottle into my gym bag. In the past on more than one occasion when my son and husband had a stomach bug I took the OnGuard softgel tablets 3x per day during their sickness and I never got the bug. I figured maybe it could help me kick a head cold as well.
Here is the info on the OnGuard tablets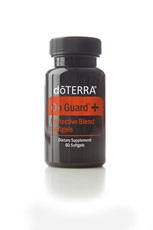 On Guard+ Softgels
"Get the immune support your body needs when facing winter threats or elements that can weaken your immune system with the proprietary blend of dōTERRA On Guard and Black Pepper, Oregano, and Melissa essential oils.
• Features a unique blend of essential oils in an easily dissolvable, vegetarian softgel.
• Provides additional immune support when needed.
• Protects against environmental threats."
https://www.mydoterra.com/ShoppingCart/index.cfm?FuseAction=CategoryShop&CategoryID=1140
A doTERRA order was supposed to arrive that same day with both the TERRA GREENS and the MITO2MAX supplements. I was sure rejoicing when it did arrive. TERRA GREENS is a fruit and vegetable supplement mix that comes in a powder form. You mix it with water and drink it. Here is the info. on TERRA GREENS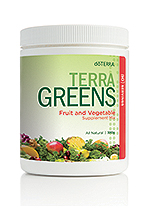 https://www.mydoterra.com/ShoppingCart/index.cfm?FuseAction=CategoryShop&CategoryID=1436
A skeptic of such supplements I have been reluctant to try the TERRA GREENS.
However I know that along with the OnGuard
the past 2 days I have taken it 2x per day and I feel a lot better! Both helped me get over this head cold within 2 days I can breathe out of my nose, taste my food, and I do not have near the sinus congestion or headache that I have had!. Other people I talk to who have had the same symptoms have been sick for over a week!
Today I felt really good so I decided to get a workout in. The supplement MITO2MAX is supposed to help with cellular energy and I had heard that it is a great supplement to take prior to a workout. A lot of body builders, strength trainers, and other athletes prefer to take a pre-workout supplement to boost stamina, bloodflow, energy, etc. Some of those pre-workout supplements are not all natural. All doTERRA products are natural which is appealing to me due to my interest in whole foods, natural wellness and healing. I was able to take MITO2MAX tablets before a full body circuit routine. Keep in mind again I used to be a skeptic of these types of supplements. If you read my blog post about caffeine you know what I'm talking about when I mention the "pump" feel is real! MITO2MAX did that for me! I could feel it working as I got into my workout. Thus proving to me that my money was well spent on this product! Here is the info. on the MITO2MAX supplement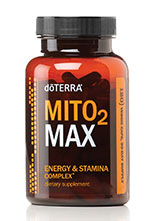 Mito2Max (Original Formula)
dōTERRA's Mito2Max is a proprietary formula of standardized plant extracts and metabolic cofactors of cellular energy. Mito2Max supports healthy mitochondrial function and aerobic capacity, and improves stamina naturally without the use of harmful stimulants. Use Mito2Max as a healthy long-term alternative to caffeinated drinks and supplements for increased energy and vitality.
https://www.mydoterra.com/ShoppingCart/index.cfm?FuseAction=CategoryShop&CategoryID=621
My promise to you is that I'm giving you my cold hard truth about this line of supplements. doTERRA has proven to work for me and I would recommend this to anyone that is interested in natural wellness, natural remedies, and/or natural supplementation.
I use other oils/oil blends from doTERRA for cleaning (LEMON and WILD ORANGE), wellness for my kids when they have a cold (oil blend BREATHE), Disinfecting the office, cuts, or laundry (oil blend OnGuard in oil form), and much much more!
Again this is all my testimony on the doTERRA products. I am writing this blog to share the good news! Please be encouraged to try some of these products! If you need more information on such supplements or oil blends please contact me!
Thank you ALL! Happy Memorial Day!